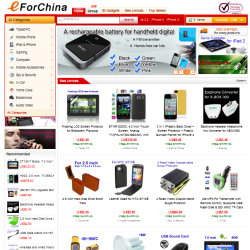 eForChina
eForChina is a Shenzhen-based online store where you can find tons of various gadgets and electronic goods as well as lots of accessories for your mobile phones, tablets and other devices.
eForChina is an e-commerce platform taking the best electronic products from China and offering them globally – all at a very low price. In addition to various cool gadgets and consumer electronics, you will find quite a choice of accessories for almost all mobile devices on the pages of this online shop.
eForChina is headquartered in Shenzhen. The competitiveness of this site's prices is only highlighted by the system of reward points that eForChina is using. You receive points for every purchase and when you have a certain amount of them, you can use them to buy other products or even to get the corresponding sum as cash-back.

Payment by

PayPal, Western Union, MoneyGram, Wire Transfer
Photo Gallery